Each year, EWG publishes their research on sunscreen and sun safety. They identify which sunscreens on the market are good for you and your family, and which ones you should avoid. They also outline some safe sun practices. We have been researching over the past month and have compiled some fast-facts that you need to know about sunscreen:
Everyone should be wearing it when they go outside, no matter their skin type.
Make sure that your sunscreen is

broad-spectrum

. There are two types of UV light that can harm your skin — UVA and UVB. UVA rays can prematurely age your skin, causing wrinkling and age spots. UVB rays can burn your skin.  A broad-spectrum, or full-spectrum, sunscreen protects you from both.
You need about one ounce (the amount you'd need to fill a shot glass) to cover your entire body
No sunscreen is waterproof at this point in time – you should always reapply after swimming or excessive sweating
Spray is NOT better than lotion. People like sprays because they're easy to squirt on squirming kids and hard-to-reach areas. But they may pose serious inhalation risks, and they make it too easy to apply too little or miss a spot. Put on your sunscreen the old-fashioned way!
A high SPF is not better for you! Anything over 50 is misleading…check back for our next blog post to see why!
Watch out for these two ingredients:

Oxybenzone – this penetrates the skin, enters the blood stream, and acts like estrogen in the body.
Retinyl Palmitate – this is a form of Vitamin A. On sun-exposed skin, it may speed the development of skin tumors and lesions.
Here are some of the safe brands we carry in our store: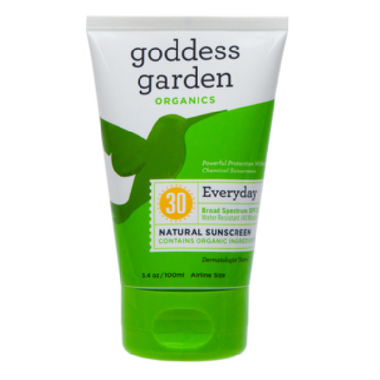 If you want to see how your current sunscreen measures up, look it up on the EWG's website by clicking here:  https://www.ewg.org/sunscreen/about-the-sunscreens/?search=Search+for+your+sunscreen